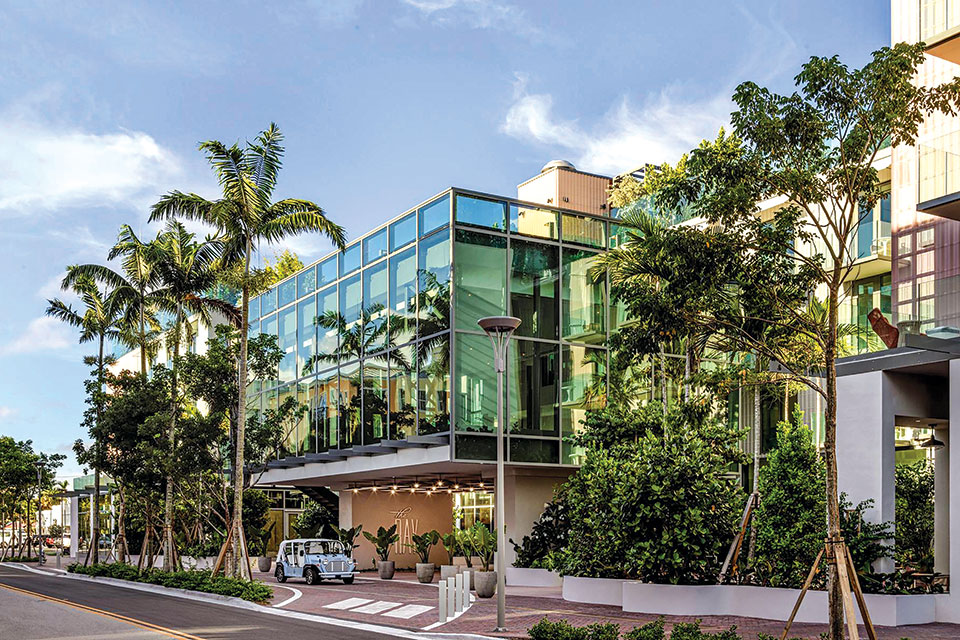 The Ray Hotel Delray Beach is part of the Curio Collection by Hilton.  Set in the Pineapple Grove Arts District, The Ray Hotel is located two blocks from Atlantic Avenue and a five minute drive to Delray's public beach.
The 141-room luxury hotel opened in September and features beautifully appointed guest rooms and suites.  Guests also enjoy an expansive rooftop pool deck with a restaurant and bar surrounded by lush landscaping.
The first-ever hotel project by leading developer, Menin, offers a robust wellness program and state-of-the-art fitness center, and immersive art installations throughout the public spaces.  The hotel's sustainable Tropical Modern architecture is punctuated with living walls, large-scale sculptures, and flexible private event space, including the signature 'floating glass cube.'
The hotel's global and diverse culinary offerings are at the heart of The Ray experience. Curated by Clique Hospitality, the hotel features Ember Grill, a modern twist on the classic American grill style restaurant, and Rosewater Rooftop, a premier lounge and restaurant where guests can enjoy shareable small plates, fresh seafood, and expertly crafted cocktails, both designed by Studio Munge.  The 22,000 square-foot-space, Rosewater Rooftop, prides itself as being one of the destination's only rooftop pools accented with oversized umbrellas, trellises, and pergolas married to a lush tree canopy providing shade and distinct lounging areas throughout the space.
An artisanal coffee shop, Stingers, also designed by Virserius Studio, offers coffee, tea, and breakfast fare while the lobby bar provides a sophisticated and intimate backdrop where guests can relax and enjoy a signature cocktail, light bites, or end the evening with a nightcap.
Akira Back Restaurant provides a multi-sensory modern Japanese dining experience led by the Michelin-starred chef, Akira Back.  Born in Seoul, Korea and raised in Aspen, Colorado, Akira Back moved to the rocky mountain state at the age of 15-years-old for his father to pursue the family business. Back began working at a local Japanese restaurant to supplement his income.
Back attended and completed his cooking education at the International Culinary School at The Art Institute based in Colorado, establishing the framework of his technique and amplifying his knowledge of Asian cooking, allowing him to incorporate his artistic vision and Korean heritage. Combining his passions for adventure, travel and culinary exploration, Chef Back toured extensively throughout Japan and Europe, studying under top celebrity chefs and industry leaders. It was during this period that Chef Back learned the value of using rare and exotic ingredients.
His repertoire of restaurants includes the famed Yellowtail Japanese Restaurant & Lounge located inside the Bellagio Resort & Casino in Las Vegas that has become a dining institution breeding several new concepts. Akira Back's namesake restaurant, known for its limitless creativity in reshaping modern dining to create a distinguished experience, continues to span across the globe with locations in Dubai, Toronto, Singapore, Thailand, Vietnam, and Seoul, with new venues on the cusp in London, Paris, Dallas, Houston, Marrakech and Riyadh expected within the next 2 years.
A picture is worth a thousand words, so we hope you enjoy discovering this new South Florida venue.
We have enjoyed the experience first-hand.