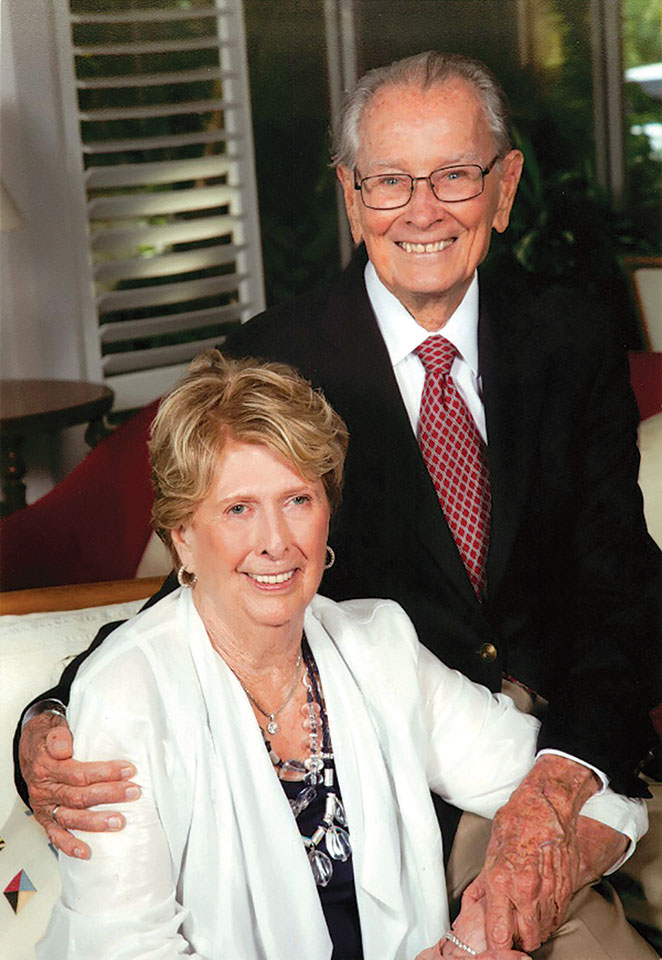 An often-used generalization is that the species homo sapiens is divided into two distinct groups, those that are focused and detailed and those that are generalists.  This simple characterization is in my experience quite applicable.  For instance, in the world of fishing persons, there are those that toss in a line and hope something bites and there are those that are laser-focused on a single species like tarpon.  In the world of hunters, there are those that prefer a shotgun and those who use a rifle and scope.  When related to the act of Giving Back, the characterization can be applied in the same manner.  Leo Ludwig Bentz, a veritable pioneer in Lighthouse Point, is the quintessential representative of the genre-focused and detailed.  He exemplifies this character trait in his professional life, his hobbies, and his desire to support his community by Giving Back.
Like most, Leo wasn't born in Lighthouse Point nor for that matter Florida.  He is a native of Pennsylvania and as was typical of many early 1900 Pennsylvania working class families, they were poor.  The family suffered a tragedy when his father lost his business in the Great Depression, when Leo was at an early age.  His dad never recovered and abandoned the family for better horizons on the west coast of the United States, leaving Leo and his two siblings to the sole care of mom.  With few financial resources and three children to support, mom made a decision that would benefit not only her family but all of the future residents of Lighthouse Point. One day she announced to the children, "Kids if we are going to be poor, then we might as well be warm and poor," and with that she picked up the family and moved to Miami.  The rapid development of Miami had a marked effect on Leo.  As he moved through his law education at the University of Miami where he obtained his legal degree, his family moved from one location to another.  Each time the family moved it was a result of the same phenomenon, to escape urban development leading to community and environmental decay.  For this reason, Leo became focused on the impact of poor legislation, bad zoning, and lax public officials on the quality of the residential environment.  So began his laser focus toward volunteering to assist his community in deflecting urban development that negatively impacts lives of the communities in which they live.  I call it, Giving Back.
Previously, Leo applied the same laser focus to a new-found hobby.   He loved water skiing and ultimately became a teacher of this sport.  This focus allowed him to support himself while attending higher education.  In fact, it led him to invent a boat, the "Ski Nautique," which ultimately became the state-of-the-art craft for water skiers. Leo met his future wife Mary when she was attending Barry University.  Mary decided to try her hand at water skiing and went to Miami to take skiing lessons from Leo.  The rest is history.  Together they became well known for their participation in the water-skiing extravaganzas that were featured at Florida's showplace of water shows, Cypress Gardens.
After graduation from UM, in 1966 Leo was admitted to the Florida Bar and moved with his family to Lighthouse Point from Miami. The concept of giving back as a resident of Lighthouse Point began soon after Leo's arrival.   This new community created from former "bean fields" that were locked between US 1 on the west, the Intracoastal Waterway on the East and the Cities of Pompano Beach and Deerfield Beach to the South and North, was a diamond in the rough.  Leo established his law practice, gave up teaching water skiing, and started focusing on his tennis.  He became an avid tennis player and as a result met Frank McDonough and Al Fletcher, two of the most impactful individuals in the history of LHP.  These two men convinced Leo that he could contribute to his community through service and the application of his legal knowledge.
At the community level, Leo was determined that his new hometown should never go the way of Miami and it should always remain a family-friendly, high-quality "bedroom community" where one could raise a family in a loving, caring, and beautiful environment.  Leo instantly became known for these ideologies. Early on he involved himself in local politics and became the watchful eye over the political structure.  In 1979 he felt that the City Commission was not moving in the correct direction regarding new infrastructure improvements, so he ran for a seat on the City Commission.  His laser focus got him elected to the Commission where he served his community for six years, ultimately becoming the Mayor for three of those six.  The same year of 1979 the City formed "The Committee of 50" of which Leo became a major contributor.  This group of distinguished citizens were charged with developing and overseeing a plan to enhance the beauty of the City especially as it related to the Federal Highway Corridor and street canopy trees.  Since those early days, Leo has had a major impact on how development takes place in Lighthouse Point.  He served on the Cities Beautification Committee in 1996, which ultimately led to the establishment of a new step in the entitlement process for development.  Out of the Committee grew the newly formed "Community Appearance Board," which is currently a required approval step prior to proceeding on to the Planning and Zoning Board.  Leo still serves on that Board to this day.  It is fair to say that Leo has served his city on just about every level possible. In addition to his CAB Board work, he can be found at just about every City Commission Meeting, Planning and Zoning Meeting and any other civic event that will have an impact on the development process.   For 55 years he has focused and served Lighthouse Point with the intention of insuring that LHP remains a family-friendly, beautiful municipality of high distinction.  Leo's world of Giving Back was never spread to numerous organizations to enhance his professional career or personal prestige.
Today at 96 years of age, soon to be 97, Leo is still involved in city politics, still out there as a watchdog for the beauty of LHP, and occasionally does something wild and crazy like water skiing.  He remains fit and trim and is in amazing command of all of his faculties.  What a gift to our city.  What should be our takeaway?  I know mine, stay focused and keep it simple when dealing with tragedies that are tossed your way…. "if we are going to be poor, then we might as well be warm and poor."