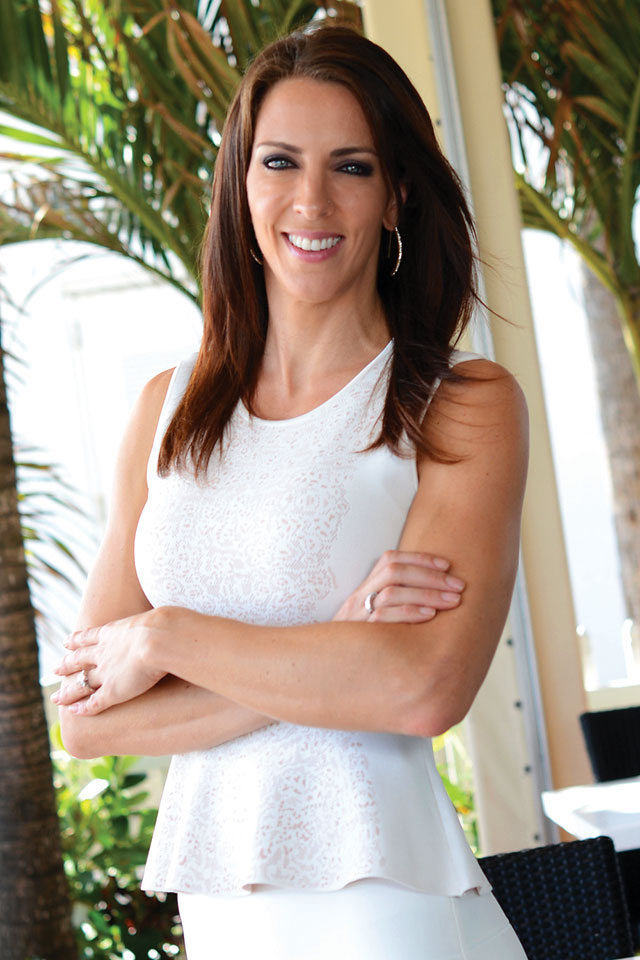 What is a formula for a successful career? Experience tells us the following, Adversity + Resiliency + Determination + Perseverance = Success. When it comes to women (I hesitate to use the term these days), you can double down on the validity of that formula. One such person in our community who is living proof of the formula is Danielle Rosse. She is the owner of Oceans 234 at Deerfield Beach and the former owner of Whale Raw Bar in Parkland. Let us start her journey with Adversity. Danielle arrived in Florida from Philadelphia seeking a new life and the desire to prove herself to the family. The year was 1998 and she was just 18 years of age. Arriving in the community of Deerfield Beach she did what she knew how to do, waitress. Previously she had waitressed in Philadelphia so being hired by the Ranch House adjacent to the Deerfield Beach Pier afforded her a small semblance of comfort at least when it came to earning a living. The Ranch House was a family business and she worked incredibly hard. The nineties were tough years for Women, the glass ceiling was ever present and feminine groups were just nipping at shattering this societal limitation. She managed to work her way into a managerial position, was  accepted by the family and at the age of twenty-one married the owner's son. The Ranch House was re-imagined under her tutelage and was re-named Oceans 234 in 2003. Life was good, she conquered adversity and the future looked bright.
Enter Resiliency. We all know life can throw us curve balls at times but striking out is not always the conclusion. In Danielle's case life threw her the worst possible curve ball. Her husband died just one year into the marriage in 2001. A crushing blow for anyone. Danielle opened her heart and embraced resiliency, that capacity to recover quickly from difficulties or, in simple terms, toughness. She pressed on in her managerial duties while her mother-in-law retreated to a northern state, to run from the horror of losing a son. Not only was she managing the restaurant, but she was now doing it alone. As you can guess, her life focused on where to go next. She was determined to succeed. Enter Determination.
Her new mission centered on taking the once sleepy oceanfront restaurant and repurposing it as an alluring waterfront dining experience. The next five years were focused on survival. These years were incredibly difficult for Danielle and operating such a key location in what was now being planned for a major urban renewal. The City of Deerfield Beach was in the process of overcoming the former "no growth" attitude of its beachfront residents and positioning its beachfront to find its identity and compete with adjacent communities for economic position. In responding to this changing environment Danielle transitioned from determination to perseverance.
Having survived the first five years, she turned her attention to building the brand of Oceans 234 to elevate the guest experience. She also decided to take that brand off the beach and into the upscale community of Parkland. In 2007 she spearheaded the opening of The Whale Raw Bar a new neighborhood Raw Bar in the City. By now her perseverance had pushed the Oceans 234/Whale Raw Bar brand onto the lips and dining experience of most northern Broward County residents. It was time for a major corporate restructuring. With 13 years of "nose to the grindstone" she looked up one day and said to herself, "I am doing everything to keep this establishment going, I might as well just own it". In 2012 she purchased the ownership of the enterprise from her mother-in-law and her journey was now almost complete. Perseverance required her to keep moving forward and put her personal aesthetic mark on the brand. To accomplish this, she sold the Parkland location in 2011 and in 2015 she embarked upon a massive 1.8-million-dollar renovation of the Deerfield Beach property. During this time, she earned the respect of the City of Deerfield Commission and Staff because her efforts were completely in line with the new direction of re-development at the Beach. With 17 years of demanding work behind her she had finally achieved success. For Danielle that was not enough. Like most great entrepreneurs she looked upon her journey and realized that it was time to Give Back to the Community that had allowed this 18-year-old seeking a new future a chance at success. Danielle approached her desire to Give Back with the same intensity that she brought to her journey.

Danielle started Giving Back within her own industry because it was there that she founded her success. She joined the Broward Chapter of the Florida Restaurant and Lodging Association and as you can guess she worked her way to President. She served in this capacity for two years and now sits on the Board of Directors. Expanding her desire to Give Back she focused on Community rather than professional organizations and as a result has received a series of recognitions that would show that it was possible for women to shatter that glass ceiling. A partial listing is as follows:
• 2011 Coconut Creek Small Businessperson of the Year
• 2013 Soroptimist International Woman of Distinction
• 2014 International Women's Leadership Honoree by The Sun Sentinel
• 2014 South Florida Business Journal, Influential Woman of the Year
• 2017 Junior League of Palm Beach County Woman Volunteer of the Year Nominee
• 2019 City of Deerfield Beach Chamber Community Heroes Award
Danielle's perseverance has now carried her and the business through the Pandemic and she is emerging once again as a force in the community not just for brand restaurant experience but with a newly energized focus for Community service. Incidentally, during the Pandemic Danielle used her operation to provide needed meals to "Feed the Need" and to the Broward County School System. Overall, she provided 200,000 meals during this time. Currently she is involved with "Woman Build," and The Boca Raton organization, "Best Foot Forward," which is an organization focused on mentoring and assisting persons from foster care to adulthood. In addition to donating over $20,000 dollars annually to non-profits for auction items, her motto these days is simple, "If a community supports you or your professional endeavor then you have an obligation to give back to your community."  Once again, we are fortunate to have citizens like Danielle voluntarily enriching the lives of those in need as well as the lives of the community at large.