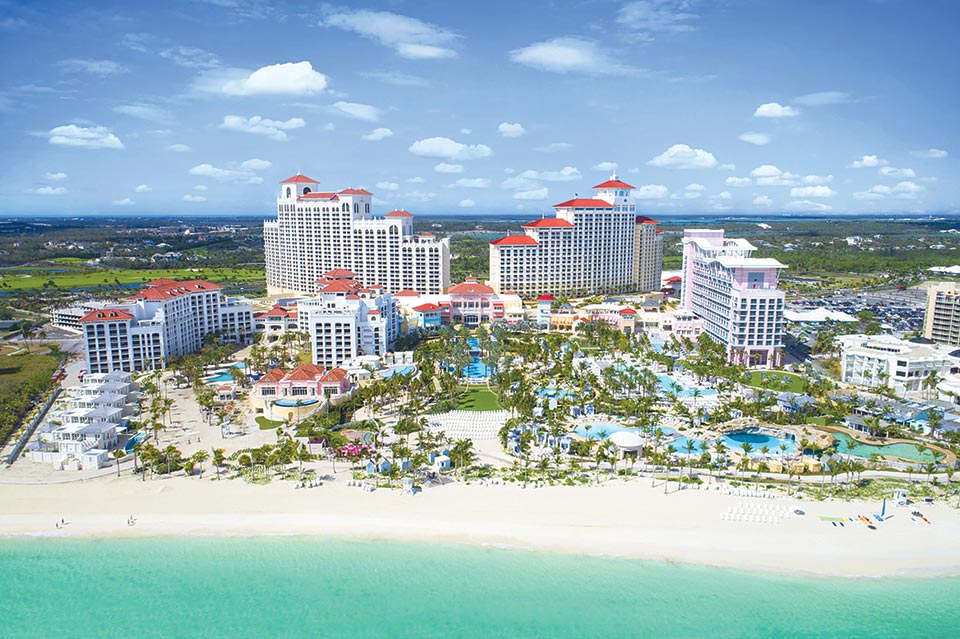 Baha Mar is located on Cable Beach in Nassau, Paradise Island. Cable Beach is home to one of the most breathtaking beaches you will find anywhere.  This resort complex boasts numerous brand hotels, offering the choice of three hotels: Grand Hyatt, SLS, and Rosewood, each offering its own unique style of luxury and world-class service so you can experience the beauty of a vacation in the Bahamas your way.
Each hotel offers complete access to all of Baha Mar, including The Sanctuary, Children's Explorers Club, Baha Mar Casino, Jack Nicklaus Signature designed golf course, and ESPA spa.  Complimentary Wi-Fi is featured at all three properties.
The golf course features a front-nine featuring dramatic views of undulating fairways, rolling white sand dunes, and the turquoise waters of the Atlantic, to a back-nine that transports you to limestone "moonscapes," elevation changes, and a dense jungle environment.  The course is a thrilling challenge to play.
Baha Mar's tennis courts feature 9 meticulously maintained surfaces. Pick up a game, attend a clinic, take a private lesson, or visit the full-service Pro Shop.
If you like to workout with a view, the fitness center offers a wide range of fitness options in a stunning setting.
Baha Mar is home to the largest, most thrilling casino in The Bahamas featuring over a thousand state-of-the-art slot machines, and 119 action-packed tables offering blackjack, baccarat, roulette, poker, and so much more.   The casino overlooks the ocean in a luxurious and stunning location.
Whether you're craving a special meal to remember or grabbing a quick bite with the kids, Baha Mar has it all. You will find everything from high-end dining experiences by renowned international chefs to more casual spots serving familiar favorites. Out in the sunshine, seaside airstream trailers and colorful beach shacks offer delicious meals with a classic, laid-back Bahamian vibe.
From luxury international brands to one-of-a-kind island finds, shopping at Baha Mar is an experience filled with discovery and delight. You will find name brands like Tiffany and Company, Rolex, and Chopard all at this resort.
There are endless activities to experience from a full array of watersports, an aviary, animal activities, a dance club, to Long Cay, which is a lush island hideaway. Spend an unforgettable day relaxing on Long Cay's pristine sands, having fun on the water and enjoying chef-crafted meals in your own personal paradise.
SLS Baha Mar is setting the tone for a new era of stylish, playfully sophisticated island travel. Luxe, high-design accommodations are complemented by renowned, chef-driven dining destinations, spirited nightlife, and unsurpassed service. This 299-room hotel includes 107 suites with floor-to-ceiling windows, pools, bars, restaurants, and much more.
Rosewood Hotel features the rich culture of the Bahamas matched by world-class service and luxurious amenities. Rosewood Baha Mar offers private beach access and full-service pools, an array of wellness services, and some of the finest restaurants in the Caribbean.  The hotel features 237 rooms, suites and villas.  Butler service is offered in the Villas and One Bedroom Suites, and higher. There are two resort pools exclusive to Rosewood guests. Guests also enjoy Sense, the spa and salon at the resort.
Grand Hyatt Baha Mar is a luxury hotel designed to celebrate the most memorable experiences of a vacation, perfect for families, friends, or a romantic getaway. It offers a wide array of restaurants and nightlife options and beautifully landscaped pools, along with its beautiful beach. It offers 1,800 guest rooms including 230 suites.  Rooms feature spacious balconies that overlook the beauty of the ocean and island. Guests enjoy six spectacular pools and the Grand Hyatt Club.
The Baha Mar hotel experience offers everything a luxury hotel offers in the two smaller and intimate hotels, and it offers a large hotel experience at the Grand Hyatt, which is similar to Atlantis on Paradise Island.
Now is the perfect time to plan a visit to the Bahamas because the Islands need the tourism community now more than ever since tourism is their main economic generator. With the damage that the pandemic brought to the islands, the government will need a strong tourist season to recover.