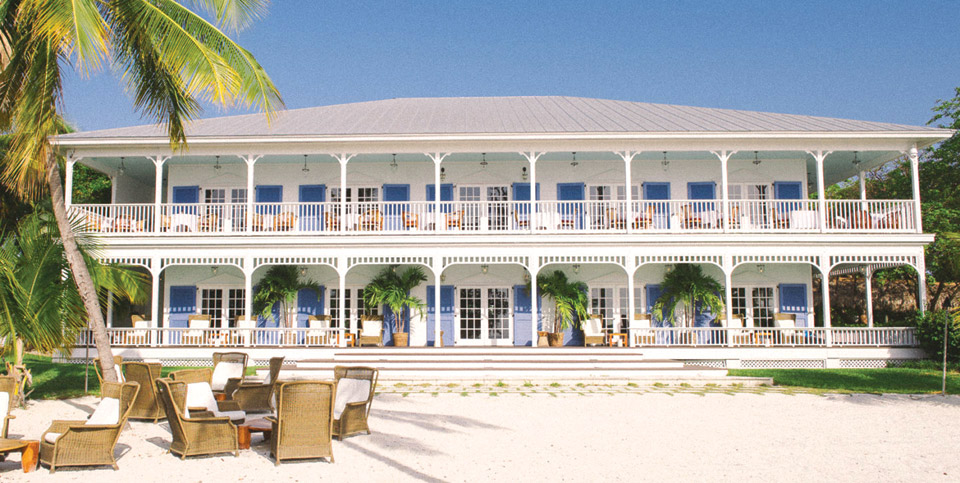 The Moorings is located on a beautiful white sand beach in Islamorada in the Florida Keys. This small and intimate resort is the ideal location if you enjoy the ocean and the idea of simply relaxing.  There are 18 one to three-bedroom villas located on 18-acres of natural beauty.  Each villa has its own distinct style, and most have spacious verandas to enjoy the ocean breeze. There are garden villas that are surrounded by lush landscaping native to Florida, and there are beachfront villas that overlook the beautiful Atlantic Ocean.  The villas offer all the comforts of home in a private setting, with kitchens, dining rooms, living rooms, oversized soaking tubs and large screen televisions.
Guests will enjoy a heated swimming pool, tennis courts, fitness facilities and complimentary kayaks, paddleboards and windsurfing equipment. Bicycles are also available for those who want to explore the area. The resort can coordinate private sunset sailing charters, scuba diving, eco-boat tours, and other sightseeing tours and area activities. For those who simply want to relax, there are hammocks to enjoy located on the beach under the many beautiful palm trees.  You can also stroll down the pier and view all the sea life through the crystal-clear waters of the ocean.
Dining is an extraordinary experience when you stay at The Moorings. The full kitchens provide guests with the opportunity to cook their own meals and, for those who want to take a break, the resort can arrange for a private chef to cook in your villa.  Guests also have the advantage of dining reservations at the island's most popular restaurants owned by the resort.
You can enjoy the casual laid-back atmosphere of the popular Morada Bay Beach Café, which serves both lunch and dinner with a menu featuring a combination of Caribbean-American dining, and with both indoor and outdoor seating. Morada Bay has a large white sand beach overlooking the bay that celebrates all the beauty the Florida Keys has to offer. You will enjoy fresh locally caught fish at this unique and special café. Most evenings Morada Bay will feature live entertainment, and the café offers a full-service bar and a nice wine list.
For a more elegant evening, you will want to experience The Moorings' other restaurant, Pierre's Restaurant, which is located next to Morada Bay in a West-Indies two-story style mansion.  Pierre's serves an international menu with a French fusion cuisine. The first floor features a large bar and lounge with indoor and outdoor seating and is a great place to enjoy a cocktail overlooking the famous Keys' sunsets.
Both restaurants are well known to locals and tourists for their Full Moon Parties, and are known to draw large crowds.  Full Moon parties are on the weekends of each full moon, and boast fireworks, bonfires, flame-throwers, and live music. These parties attract singles, couples and families alike.
We lived in Islamorada for many years and have enjoyed both restaurants, and we have also had the privilege of staying at The Moorings. It is a unique experience in the heart of the Florida Keys.
The Moorings took a direct hit from last year's hurricane and did receive damage to its grounds. It reopened in January and continues to build its lush gardens and plant additional coconut palms on the beach, as prior to the resort being built the land was a coconut plantation. Guests can be part of the rebuilding effort by planting a fallen coconut in buckets provided by the resort to have their own coconut tree grow.
PHOTO GALLERY

Click on the image to enlarge
Follow Roberta Turner
on TripAdvisor under
"fussytraveler440" to
get her insights on
hotels, restaurants
and other hospitality
venues she visits.