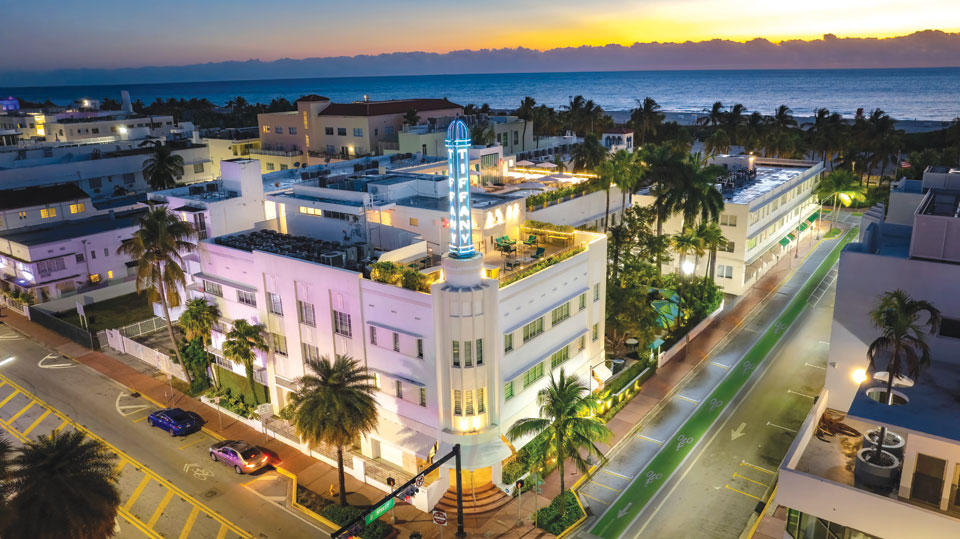 The Tony Hotel South Beach, formerly The Hotel of South Beach, embodies the classic South Beach retreat in an intimate setting.  The property features an ocean-view rooftop pool, a 1930s Art Deco architecture, and the "Tiffany" spire sign on Collins Avenue.  There are two buildings on Eighth Street in Miami Beach  with a total of 74 rooms and suites sporting rich colors, shapes, and textures that honor its historic location.
Amenities include not only the rooftop pool but also lounge chairs and cabanas that overlook Ocean Drive and the crystal-clear Atlantic Ocean, and a fitness center.
The Spire Bar is a chic hotspot for intimate cocktail receptions and dinners with impressive views.  All rooms are equipped with brand new 55" TV's, mini-fridges, and high-speed WiFi.
The renamed icon of Miami Beach will be joined in the Spring by the re-opening of the legendary News Café located on the ground floor of the Tony's Ocean Drive building. 
For the curious, the new name of the hotel honors Tony Goldman, founder of Goldman Properties.  Tony Goldman was inducted unanimously into the Miami Beach Hall of Fame.  He is known for transforming several iconic neighborhoods, including South Beach, Wynwood, SoHo, and Center City in Philadelphia.
According to Scott Srebnick, Tony Goldman's son-in-law and CEO of Goldman Properties, Tony "imagined South Beach to be the American Riviera with sidewalk cafes, hotels, music, and languages spoken by people from all corners of the world.  Reintroducing the hotel as part of a new South Beach renaissance is the best way to honor Tony's memory and enhance the area's rich history."
The property was originally built by master architect L. Murray Dixon before receiving a refreshing revamp by American fashion designer Todd Oldham in 1998.  The hotel maintains its original architectural features, including terrazzo flooring and an impressive entryway, combined with modern design elements.