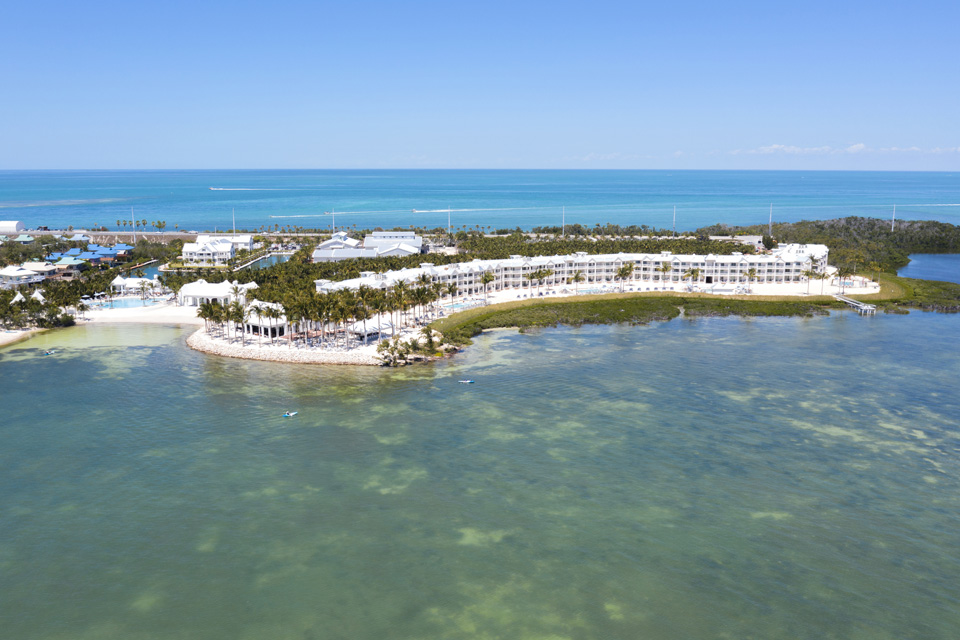 There are so many new resorts in the Florida Keys that now is the perfect time to escape and enjoy all they have to offer. We have featured some of them and plan to continue to include the Florida Keys in future "Escapes" articles as we believe it is the perfect place to escape.
Marathon now has a new beach resort, Isla Bella Beach Resort, that has beautiful ocean views. It is a hidden gem as you don't see the resort from the Overseas Highway. There is a long winding drive to reach the resort and once you arrive you are delighted to see what is there. The resort is located on 24 acres of beautifully landscaped tropical gardens and expansive sand dunes.
Isla Bella has 199 rooms and suites.  Each spacious and luxurious room has its own outdoor living area so you can enjoy the beauty of the sandy beach and the views that only the Florida Keys offers.  The resort is located on one mile of waterfront and has five oceanfront pools to enjoy.  There are plenty of activities to enjoy including water sports, kayaking, snorkeling and diving.  For those who want to explore the area, there are jet ski tours, harbor cruises and fishing charters available at the marina.
The beach area features tiki hut seating, a bocce ball court, and giant chess boards.  If you're an early riser, you might want to grab a cup of coffee and sit on your balcony or the beach to catch the beautiful sunrise.  The beauty of the Florida Keys is so unique and honestly breathtaking.
The resort has a large spa with treatment rooms, a relaxation room, and a large selection of services in addition to a state-of-the-art fitness center.
There are multiple indoor and outdoor dining options including classic Keys seafood, a traditional Italian restaurant with wood-fired pizza ovens, a beach bar, and poolside food and beverage service. There is also a marketplace café.  Isla Bella Marketplace is open to the public.
The 5000-square-foot space features a watersports activity center, gourmet café, and an extensive retail destination.
Marathon Key offers access to a variety of wildlife and marine species. From swimming with dolphins to sea turtles, there are numerous attractions to experience including the Florida Keys Aquarium Encounters, Dolphin Research Center, The Turtle Hospital, and the Crane Point Hammock Museum & Nature Center. And, there is the seven-mile bridge that provides incredible views of the ocean and the Gulf of Mexico, and in some ways is its own attraction.
There are plenty of local restaurants and bars on this key to experience the real Florida Keys.  You will want to make sure you enjoy some of the freshest fish and stone crabs around while visiting Marathon and the Isla Bella Beach Resort.
PHOTO GALLERY

Click on the image to enlarge
Follow Roberta Turner
on TripAdvisor under
"fussytraveler440" to
get her insights on
hotels, restaurants
and other hospitality
venues she visits.