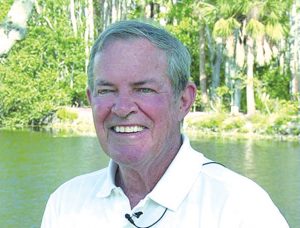 There are individuals who by nature are exalted and life experiences have a way of humbling them, and then there are those who by nature are humble and life has a way of exalting them.  I have the honor of writing about a person who is the living example of the later.  In knowing this person and delving into his 84 years on our planet, I too have become truly humbled.  This is a person who commenced his formative years as a high school drop-out but with a humble character. From those roots he honed a vision and drive that led him to a profound sense of faith, morality, and love of nature, all of which allowed him to achieve an enviable career.  I am writing about Lighthouse Point resident, Roy Rogers. No, not the cowboy with a horse named Trigger, but a gentle person who developed these traits from adversity and economic hard times due to the death of his father when he was at the tender age of five. 
If you have lived in Florida for the past 30 years then you have probably encountered the name Roy Rogers, alias, Mr. Green Jeans.  Roy was born in Philadelphia and by age five, after the passing of his father, the family fell on hard times spending the next years living with relatives in Connecticut, Washington, D.C., Maryland, and finally New Jersey.  During that time Roy and his sister attended different schools each year and learned to live life without permanence or lifelong friends.  Roy developed a keen sense of learning about history due to his sponge-like desire to engage with the libraries of his host families.  It would be a while before this cross-disciplined, self-initiative would bring him success in whatever he pursued.
When finances were extremely tough, Roy dropped out of high school and joined the Navy. He chose the Navy because he wanted to serve his country and follow in the footsteps of the father that he never knew.  His dad was a WWI Veteran.  Roy's strong resilience to adversity allowed him to survive bouncing from school to school and it also allowed him to excel in the military.  In fact, his humble nature became a trait for survival.  In the Navy, he learned that it was possible to apply along with a limited number of others to attend the Naval Academy.  However, this path had a prerequisite.  You had to have completed high school. With this obstacle to overcome Roy set out in his spare time and earned a GED while serving his country. To the astonishment of his superiors, he was accepted into the Naval Academy.  This, his first great exaltation, resulted from his humble attitude combined with hard work. This was now to be the road map for a life of Giving Back.
While attending the Naval Academy, where he graduated with distinction, he also chose the sport of boxing.  Like most things Roy attempted he became the best.  Upon graduation he held the honor of being the undefeated boxing champ at the Naval Academy.   
Upon graduation Roy was offered the honor of "any ship, any ocean." He chose the Pacific and a destroyer.  He commenced this career in 1956 as an Ensign and elected to end his military career in 1966 as a Lt. Commander.  His initial service was on a flagship destroyer escorting aircraft carriers in the Pacific and it culminated on a Nuclear Submarine serving as a commanding officer.  As such, he was one in the chain of three that it would take to launch a nuclear weapon.  An awesome responsibility which weighed heavily on his psyche, faith, and sense of morality.  It was during this time that Roy rediscovered his commitment to the Catholic Faith.  This commitment led him to serve his community of Lighthouse Point at St. Paul the Apostle Parish as a CCD teacher for 26 years.  He has had a profound impact on generations of young people. 
When he decommissioned in 1966, Roy's mother was living in South Florida.  He chose to move there to be near her and help in her later years.  This singular decision was ultimately to the gain of all Floridians.
Time for a new career. Roy took a job with three others developing, designing, and constructing golf courses.  It was there that he met Robert Trent Jones, the great golf course designer.  With a newly minted career, Roy decided he needed to become a Landscape Architect, a goal which he achieved again the hard way, without education.  In 1972, he decided it was time to go it alone and follow his belief that a golf course could become the heartbeat of a community.  His philosophy that golf courses created beauty, preserved open space and, if done correctly, would aid the local environment with foliage to provide shade, purify the air and lend a bucolic experience to the residents.  From these humble concepts, Roy created golf courses in Delray Beach, Wyndmoor Village, Coconut Creek, and many other locations.  Mr. Green Jeans was born of these endeavors.
When the Arvida Corporation embarked upon the concept of building a sustainable community at the edge of the Everglades, they chose Roy as their senior executive.  His vision on how to plan a community based upon the principle of harmony with nature, would make Weston the pride of the nation for planned communities.  As you can see from the short journey through the life of an incredibly humble person, Roy took on challenges with a passion, and earned levels of achievement that any one of us would envy.  As he accomplished these self-imposed challenges, he never stopped Giving Back to his community.  Roy is a modern-day St. Francis of Assisi.  Let me list some of these community-based achievements: