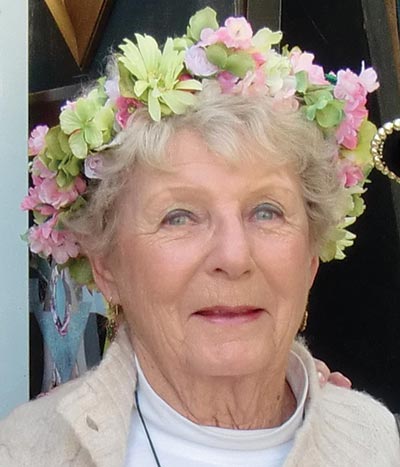 Pompano Beach is continuously gaining recognition as a historically significant city within Florida.  As we continue our research, we identify more and more regional pioneers who emerge as individuals that have shaped the city and its communities in positive and historically significant ways. Margaret DuBois White may not have been here at the turn of the century, for you youngsters I am referring to the prior century, but arrival in 1957 to this post WWII fledgling community places her shoulder to shoulder with our most important Pioneer designees.  However, of particular interest to me is that Margaret was not just a Pioneer but what I would call a "Philanthroneer."  I contrived this word because it best represents her tireless volunteer work in advancing the causes of assisting those in need.  She has spent over a half a century supporting our community institutions and pushing the boundaries of recognition for the history of Pompano Beach.  These are the reasons that she is being featured in "Giving Back."  While she took care of her marital duties, raised three children, five grandchildren, seven great grandchildren, and 2 great great-grandchildren, she quietly and unselfishly created a community legacy that would be the envy of anyone.
Shortly after her arrival Margaret, then a young bride and mother of three, knew where her talents would be most beneficial.  She, along with two other women, identified a need to assist disadvantaged youth in the community.  Margaret was the driver behind organizing the very first chapter of "Children with Learning Disabilities" in Broward County.  This organization addressed the "newly discovered" challenge to youth called Dyslexia.  Margaret was determined that there was a way to assist those who were challenged with reading and retaining information.  This "philanthroneering" effort gave birth to the programs that are offered today at Florida Atlantic University.  Margaret then moved on to become President of the Pompano Beach Historical Society, a position which she held for five consecutive years. Today she still maintains a vital Board of Directors position.  During her work at the Historical Society she learned about the Sample McDougald family home on Dixie Highway.  This marvelous residence, home to the McDougald family and built-in 1916, was in a state of disrepair and in danger of becoming a candidate for the wrecking ball.  She knew that along with the razing of this architecturally significant period home the city would lose the opportunity to portray pioneer life to generations yet to come.  She befriended the descendants of the original pioneer families, worked with a few key people in the city and became the driving force behind the formation of the Sample McDougald Preservation Society.  With the 501c3 as a springboard, she then lobbied in Tallahassee to obtain funds to relocate the home and ultimately transform it into the marvelous house museum that stands today on acreage donated by the city.  Along the way she was instrumental in attracting people to assist, yours truly included, donating her personal possessions in order to provide the home with historically correct period artifacts and raising close to a million dollars. Funds were raised by roasting local celebrities such as Mayor Bill Griffith, Architect William Gallo, Environmentalist Roy Rogers, Developer Tom DiGiorgio, County Commissioner Kristin Jacobs and City Manager Greg Harrison.  In 2008, Margaret was named Soroptimist Woman of the Year and, if that wasn't enough, in 2012 the City of Pompano Beach Parks and Recreation named her as recipient of the Nick Creola Heroes in the Community Award, and the Pompano Beach Chamber of Commerce awarded her as a "Light of the Community" shining star.
Did I mention Margaret is 90 years young?  Her blue eyes, bright smile, faith in God and positive attitude are still driving her "philanthroneering" efforts as I write this article.  As a founding volunteer of the Pompano Beach Green Market, she organized weekly live music and entertainment for ten market seasons. She also served as a Board Member of Pompano Proud, an organization devoted to the planting of native species indigenous to South Florida.
If you are out and about in the City of Pompano Beach, there is a good chance you will run into Margaret DuBois White and you will know it is herby those piercing but gentle blue eyes and a smile that will make your day.  If you are athletic, you might see her at jazzercise, or just out walking the dog through the community that she loves so much.  When you do make her acquaintance, remember to social distance out of respect for her age and pay her a great compliment for her work in making this community a better place to live.