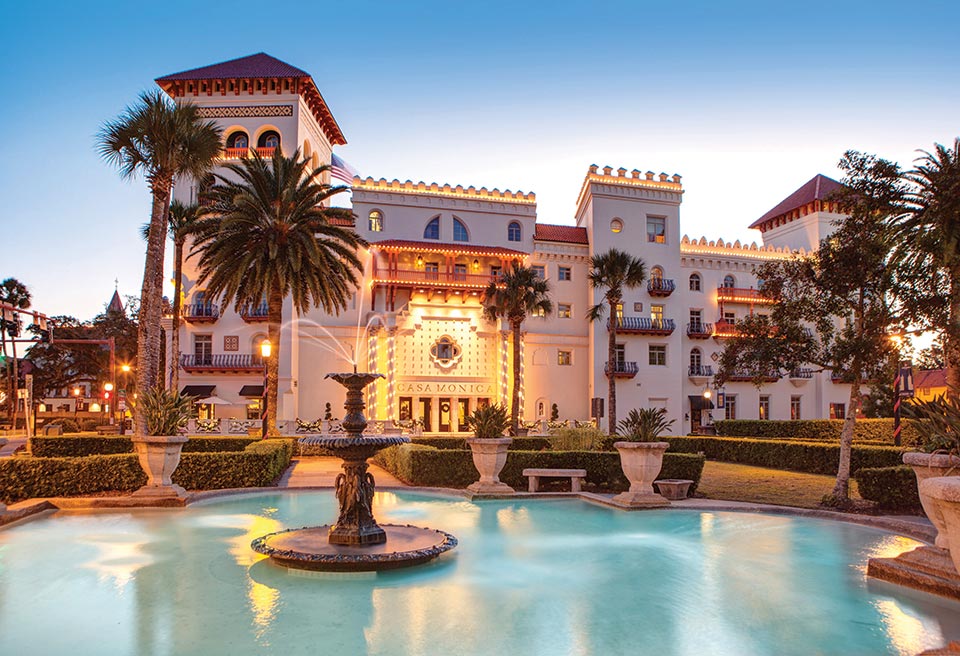 Casa Monica has a rich history and is a historic landmark in the nation's oldest city, St. Augustine.
The original Casa Monica opened in 1888 and was built by Franklin Smith.  After a few months of failure, the hotel was purchased by Henry Flagler and was renamed Hotel Cordova, and business boomed.  The hotel closed in 1932 and served as the County Courthouse for 30 years until Richard Kessler of The Kessler Collection acquired the hotel in 1997.  He spent the next two years, and millions of dollars, on renovations to restore its original beauty and, once again, it became St. Augustine's luxurious hotel with all the original beauty and splendor of the Guilded Age of nearly 125 years ago.
The lobby is adorned with fountains, tapestries, magnificent chandeliers, and elegant furnishings which are beautifully unique.
Casa Monica offers 138 guestrooms and suites overlooking the downtown district and Matanzas Bay. The rooms are Spanish-style by design and feature custom interiors with classical features that we found to be comfortable and romantic. Many of the suites are bi-level, and some offer a loft-style option.
The hotel features an outdoor relaxation pool complete with chaise lounges, cabanas, and day-beds with canopies. In addition to the resort's pool located on the property, guests have complimentary access to the Serenata Beach Club, where guests are invited to enjoy exclusive access to the private seaside club located on the dunes overlooking a historic coquina sand beach.  The beach club offers a family pool, a kid's pool, and beachside lounges.  Food and beverages are available at the club in casual elegance in a one-of-a-kind oceanfront setting.
Casa Monica offers a fully-equipped fitness center as well as a spa that features customized therapies, massages, and other spa services. The resort offers both elegant and casual dining, along with a lounge featuring handcrafted cocktails surrounded by candlelit tables and artwork.  Live entertainment is also available in the lounge.
If you want to experience dining as an art form, then you will want to make sure you have a reservation at Costa Brava.  Guests enter this elegant restaurant through 24-karat gold leaf arches and the restaurant's atmosphere is rich with lavish antiques and intricately hand-painted ceilings.  The menu features fresh coastal cuisine.
For a more casual experience, Café Cordova offers a European-style café and offers a wide selection of food ranging from a selection of breakfast options, bagels, pastries and signature sandwiches, including the best Cuban sandwich in St. Augustine.
Casa Monica is a AAA Four Diamond resort that you will appreciate and enjoy in a wonderful city.
St. Augustine
Established in 1565 by Spanish explorer and admiral Pedro Menéndez de Avilés, St. Augustine is the nation's oldest continuously occupied city and quite possibly the most charming. Often called the "ancient city," St. Augustine's charisma and year 'round mild climate make it the perfect setting to imagine the storied history while strolling along the cobblestone streets dotted with cafés, bars, and shops, or explore the iconic lighthouse, Castillo de San Marcos Fort, and many other attractions.
PHOTO GALLERY

Click on the image to enlarge
Follow Roberta Turner
on TripAdvisor under
"fussytraveler440" to
get her insights on
hotels, restaurants
and other hospitality
venues she visits.