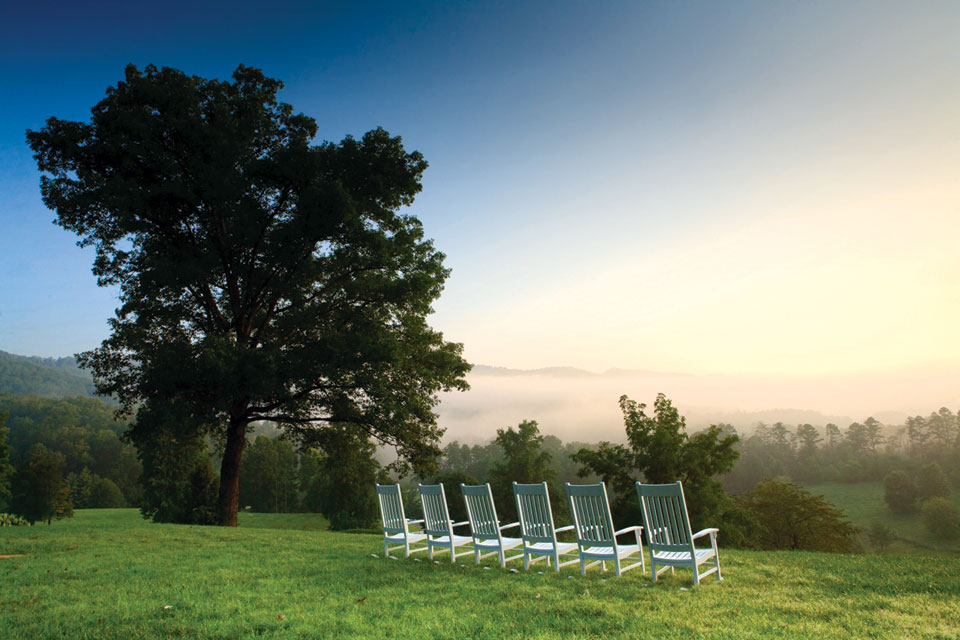 A visit to Blackberry Farm is a unique and remarkable resort that will lift your spirits, restore your soul, and open your mind and body to all types of incredible and enlightening experiences.
Located at the foothills of the Great Smoky Mountains, the morning mist fades to magically unveil one of America's greatest hidden treasures, Blackberry Farm. Its 4,200 acres have been a mountain haven and tranquil escape for family, friends and guests for more than 80 years as it evolved into a luxurious resort of breathtaking scenery, decadent cuisine and pleasurable pastimes.
I am delighted to say that my husband and I discovered Blackberry before it became famous around the globe and a five-star world-class resort.
I don't think 5-star resort adequately describes this paradise on earth.
We have been fortunate to visit numerous times and really love everything about this special place that has become America's most celebrated intimate luxury hotel.
I am not sure where to start as Blackberry has everything anyone could want for a relaxing escape from the modern-day frenzy of our daily lives to a place with a host of incredible pleasurable pastimes.
In order to understand how this resort developed into this mountain paradise, you have to understand the history of the resort and the family that has dedicated and developed Blackberry Farm to what it is today.
Regardless of the season, Blackberry Farm offers countless activities and adventures to fulfill your every desire. For those who like adventure, you can visit the stables to find the perfect horse for you to enjoy a private or group ride to see the beauty that surrounds Blackberry.  For those a bit reluctant, there are other options to enjoy whether it is a carriage ride, a golf cart drive, or beautiful hiking trails.
There is also archery, paddle sports, cycling and fly fishing. For the more athletic, tennis, swimming and golf are available in your own backyard.
Eastern Tennessee is graced with dramatic byways and roads that meander through the mountains, where guests of Blackberry Farm can experience driving tours in luxury. When planning a trip to the Great Smokies or even a quick jaunt into town,
reserve a complimentary Lexus.
For those who want to be pampered, the spa at Blackberry Farm is called the Wellness Spa which features all types of relaxing treatments that are unique to the resort.  There is even a hair and nail salon available at the spa.
Blackberry Farm's renowned cuisine is definitely rooted in what comes from the farm as well as the region. Often described as Foothills Cuisine®, it wanders the line between refined and rugged, borrowing from both haute cuisine and the foods indigenous to Blackberry's Smoky Mountain heritage. Guests have the delightful adventure of fulfilling their gourmet desires in three warmly inviting and wondrously inventive restaurants. Blackberry Farm brings together a rare collection of artisans – the chef, the master gardener, the baker, the cheesemaker, the forager, the butcher, the preservationist, the restaurant manager, the sommelier – who blend their unique talents to create what guests know as Blackberry Farm.
The breakfast at the Main House is a classic, wholesome and fulfilling experience. Classic breakfast offerings include Buttermilk Biscuits & Gravy, Farm Eggs from one of the local egg farmers, or the chef's daily griddle cakes while overlooking the misty morning views of the Foothills.
Lunch at Blackberry Farm is meant to sustain guests through an active day on the stream or trails and tide you over until dinner. This meal is centered on wholesome salads, unique Southern sandwiches and soups that highlight seasonal and farmstead ingredients.
Set in a turn-of-the-century, bank-style barn, dinner at The Barn is an elevated experience where guests look forward to dressing up. Jackets are strongly preferred. Suits, dress pants, skirts and dresses are great options.
The Dogwood welcomes guests to a relaxed fine-dining experience, featuring a shorter multi-course experience and sweeping views of the Chilhowee ridgeline. Diners can enjoy either indoor or outdoor seating, weather permitting.
With 160,000 bottles to choose from, Blackberry Farm's wine cellar is deep with opportunities to learn more about wine. During your stay, guests can schedule time with a member of the sommelier team for in-depth tasting and explore regions, varieties, producers and vintages.
The goal of Blackberry Farm's Wine Program is simply to offer the most exciting wine experience to guests from beginners to the most dedicated wine connoisseurs. They are confident that guests with the most experienced wine palates will be overjoyed with the opportunity to experience the wine they have always heard about but never seen, or maybe just revisit an old favorite all found on the resort's Wine Spectator Grand Award-winning Wine List.
Blackberry produces four families of beers and each of them serves a different purpose in rounding out the offerings. At the Blackberry Farm Brewery, the goal is to craft beers that are unique and rooted in tradition, while speaking to natural nuances of the farm.
The farm also offers a large variety of accommodations from historic rooms to suites, all types of cottages to homes.  We have always stayed in the Hill Cottages because we fell in love with the area, the uniqueness of each one, and the romance and charm they convey.
This article cannot do justice to the beauty, variety and wonderment we have seen and experienced at Blackberry Farm.  So, please experience it yourself.
Photos courtesy of
Beall & Thomas Photography.