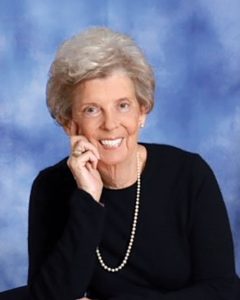 In the course of a lifetime, giving back to one's community can be approached in many ways.  Some choose, at an early age, to focus on career and community prominence and embark upon a lifelong career path with an eye toward attaining a high community profile accomplished by penetrating numerous community organizations. I refer to these individuals as "doing a few things for many organizations." On the opposite end of the spectrum are those humble individuals that blossom later in life, but upon finding a meaningful career path maintain a steady course and become an influencer to many.  I refer to these persons as "doing many things for a few or even one organization."  My focus this edition is on Doreen A. Gauthier.  Doreen has never been a high-profile personality whose goal was to embrace many organizations and publications throughout her career. In contrast she is the polar opposite.  Doreen has maintained a laser focus to motivate individuals to explore and learn from the writings of others.  In doing such she has had a positive influence on generations of individuals.  It is my contention that her legacy will be defined by the success of the people that have met her along the way and blossomed because of her guiding them to achieve a higher purpose.  In essence she is the quintessential "Librarian Extraordinaire."
Doreen is a child of Midwestern values, born in Davenport, Iowa in the heyday of "The Great Generation." It was that generation of WWII families that endured much and appreciated strong moral character supported by education in all things humanitarian.   After primary education, Doreen enrolled in and graduated from Midland Lutheran College.  It wasn't until many, many years later, at the young age of 54, she earned a Master of Arts Degree in Library Administration from the University of South Florida.  During the time between her graduation from Midland Lutheran and her achieving a Master's degree, Doreen came to a small bedroom community called Lighthouse Point, Florida and became its librarian.
As that community grew so did Doreen's influence on its constituents.  For 33 years Doreen led this community's intellectual effort and educated its children on the benefits of embracing fiction and non-fiction, whether it be by reading, listening to CDs or engaging in programs supported by her staff.  During that time the community evolved into a well-established location for professionals with a focus on family, sports and what was purported to be the best place in Broward County to live.  While Lighthouse Point was obtaining this reputation, Doreen was giving back to her community, guiding its library to five different locations and ultimately two major renovations to its present location.  She worked tirelessly to establish, "Friends of the Library," a financial and philosophical support group, and on hundreds of occasions lobbied the City Commission on the benefits of expanding Library programs and physical facilities.
Today the Lighthouse Point Library exists in an 8,000 square foot facility adjacent to City Hall and it is about to undergo yet another expansion thanks to her efforts.  One may wonder how libraries find the need to expand at a time when digital media boasts it will be the death of print material.  Doreen had the answer.  She says, "Libraries will always be the heart of a vibrant community," and goes on to state that "Libraries have become e-government centers for patrons seeking social service and other valuable information.  They are the one place that can maintain meaningful interaction with age groups from toddlers to seniors."  What we can learn from these quotes is how libraries impact, influence, and motivate these various age groups and provide a positive foundation upon which so many individuals can build a successful career, family life and desire to return and give back to their communities as well.
Doreen's humble character has not gone without notice.  This small town of +/- 11,000 people had the honor of having their Librarian designated as "Florida's Librarian of the Year" in 2009.  She received this prestigious award at the annual Florida Library Association conference in Orlando.  Her recognition was classic.  She was awarded this prestigious prize for her vision and success, partnering with schools and libraries of much greater size, to offer patrons the latest technology and products in distance learning. Quite innovative when you consider that distance learning has only lately become mainstream due to COVID-19.
Three years later in 2012 she was recognized by the City of Lighthouse Point as a "Keeper."  This honor is bestowed upon individuals who have made a lifelong contribution to their community and influenced the lives of its residents in a positive manner.  By 2012 she had invested 33 years as the city's Librarian.  A fine testimony to a great citizen who devoted her entire life to a single endeavor yet has touched so many people leading to positive outcomes.  Doreen offers a lesson learned to each one of us summed up as follows: stay focused, follow your heart, offer a positive message, and you will undoubtedly influence many people.  Just another way of "Giving Back."