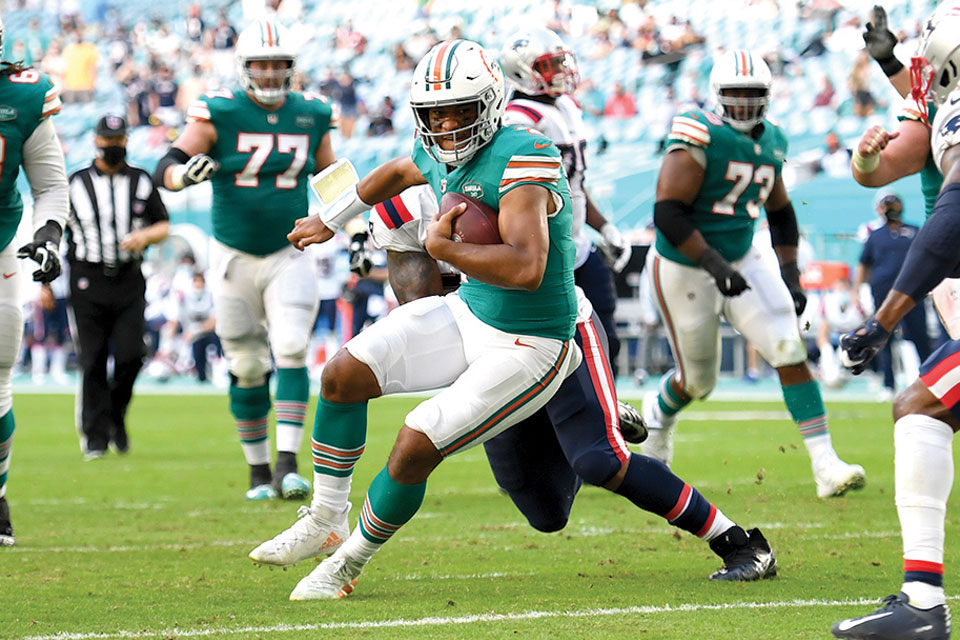 With the somewhat unexpected exit of the Heat from the playoff picture, and the lukewarm performance of the Marlins who we didn't expect much from in the first place and got what we expected, we are looking forward to this season's Dolphins edition.
The Marlins pitching was dependable and at times awesome, but the hitting as expected lacked punch and consistency.  There is some future talent evident, but it will take management a couple of years to put a competitive team on the field, assuming it is serious, aggressive, and willing to stay the course.
Our expectations for the Heat this past season were different.  A few known stars and a lot of new, proven talent gave rise to lofty expectations even though this crew had never played a season together and we couldn't predict how the chemistry would work. Therefore, when the balloon deflated in the face of the Celtics pressure, very few of us became seriously depressed. Some players became invisible, a lot of our talent was injured, and at each downward turn we weren't crushed because our expectations were never able to stand the test of time without eventually unraveling before we could grasp what these guys could do together, when together.  So, when the unravelling arrived, it felt like we had expected it eventually all the time.
Now the Dolphins are going to be our focus. We don't really know what to expect from this rather new group either but for some reason we feel encouraged by the players assembled by new head coach Mike McDaniel. There is proven talent from last year's team, major improvements from acquisitions and the draft and, therefore, high expectations.
Sound familiar?  Maybe it's the Kool-Aid we start drinking in August or maybe its because, in football vs. some other sports, with more players on the roster we can spread our expectations over more players who can, and should, produce.
The pre-season starts August 13, so we won't know until sometime after that what the team really has in terms of prospects for 2022.  Let's hope our expectations aren't shattered again this year.  Our sense is that, unlike the Marlins, there is a chance for the team to be good and, unlike the Heat, there is a greater depth of talent that should produce a more positive result than Butler's group.
Time will tell, but for now it's "Tua Time."