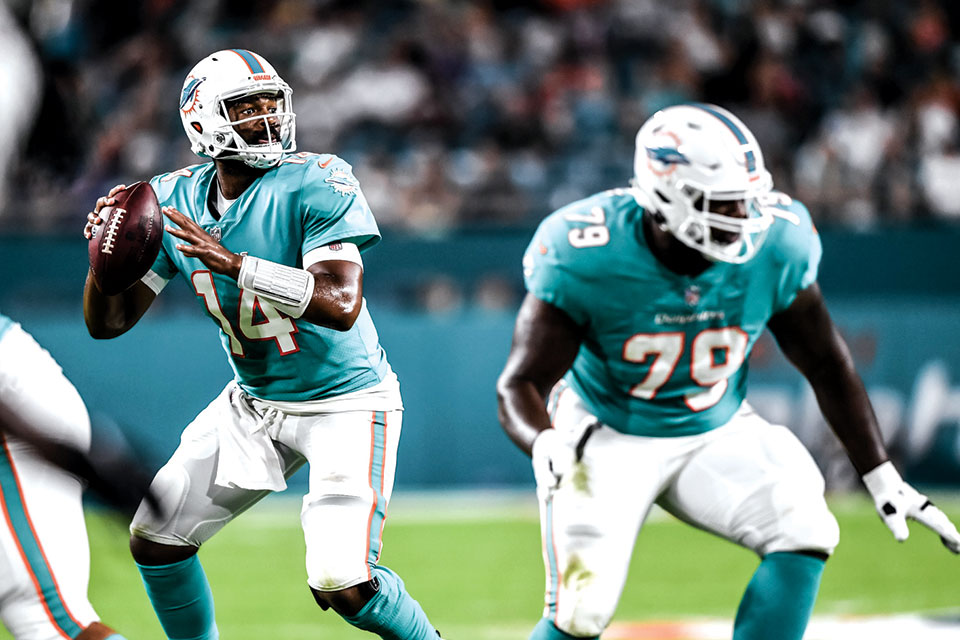 A few games are certainly not indicative of what to expect for the entire year, but so far there is little to be encouraged about.
Before his rib injury, Tua did not look as smooth as a Mac Jones and displayed a tendency to "wind up" when tossing the long ball, though most of the time he was successful. Brissett is a capable replacement but has generally not been touted as an elite prospect. The bottom line is that the Dolphins will be looking for another option if Tua cannot return soon and be effective.
Another disappointment is the offensive line. It has been just that, offensive. The question that looms large is that management and coaches have known since early last year that they did not have adequate offensive line talent. A year has passed, and the line still looks undermanned and lacking talent. This should have been corrected in the off-season and the draft, but it obviously has not. If whoever the QB does not enjoy some protection, the passing game will fail as well the already suspect running game.
Also evident from the first few games, and especially the first quarter of the Buffalo game, is the fact that the team looks confused and not prepared for what the opposition is throwing at them. In the Buffalo game, the Bills were up two touchdowns before the Dolphins got their pants on. That's on the coaches.
Just a brief comment on the offensive schemes. As in the last few years, the play-calling has been devoid of any creativity. This is obvious when the team falls behind in scoring and then is able to almost retrieve the game with newly-discovered offensive firepower. Let's mix things up early and not have to throw caution to the wind in the fourth quarter.
On the bright side is the defense. The DL looks pretty stout and the defensive backs, especially the corners, keep coming up with the take-aways, as we have come to expect. This should be the strength of the team for the balance of the season, but it is almost impossible to win games without scoring offensively.
The receivers are also very good, but the lack of protection for the quarterback and an unusually large number of dropped passes has kept this group from receiving the accolades that will come it's way before long.
Obviously, there's a lot of work to be done and there's no reason to delay making changes because, without those changes, not only will this season be a waste but it will put the team back in the same position for next season.
Photo Courtesy Of The Miami Dolphins