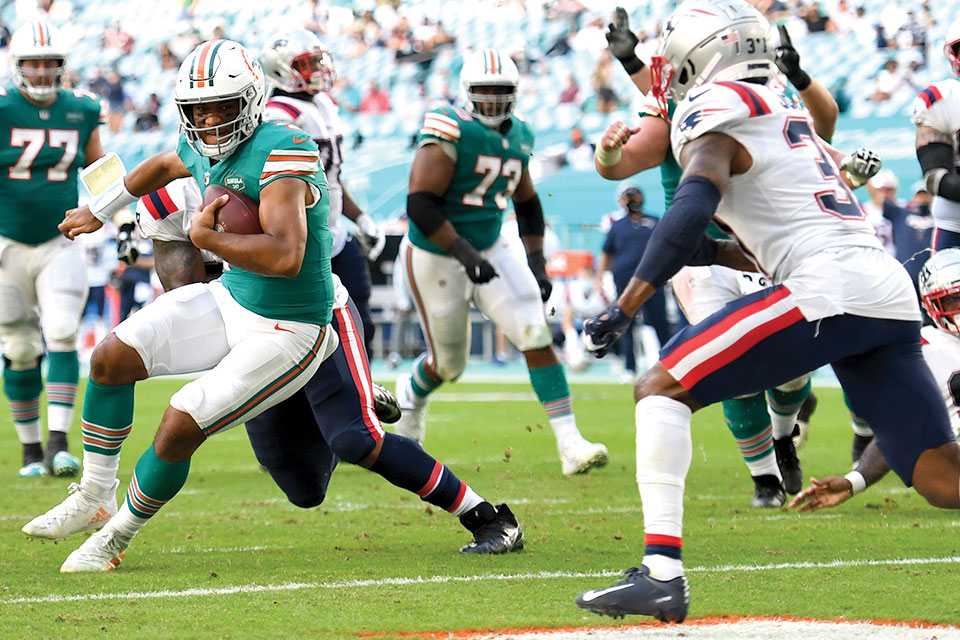 The only certainty about the upcoming Dolphins' season is that Tua Tagovailoa will be the starting quarterback when the season opens September 12 against the Eagles, barring a pre-season injury.  Sometime after last season ended and Tua concluded an unspectacular rookie season, the team apparently decided it had witnessed enough good in his performances to ride him into his sophomore season.
The proof of that is in the draft and personnel movements leading up to the 2021 season.  Speedy wide receivers were added, additional tight ends were coveted, and better linemen were introduced to better protect Tua and let him "do his thing," which is constant movement if he doesn't spot his target in the first one or two seconds after a snap.  This usually results in what historically was labeled a "run-and-shoot" offense where the quarterback has every option in the book to gain yardage.  Management must feel that this is the best approach for the team and that Tua should be effective as its leader.
The defense should be pretty stout, depending to some extent on what happens with Xavien Howard, so we won't delve into that squad before the season even begins.
Las Vegas has opined that the Dolphins will have a 9-8 season, or something close to that.  My best guess is that the odds-makers are not totally sold on Tua or the expected offensive approach, but at this stage in the pre-season I would bet they are wrong.  The team should exceed those expectations and post ten or eleven wins.  If all works well for the offense, several of those wins should come early on, before the opposition fully understands Tua's capabilities and develops defenses to counter the confusion caused by the Dolphins offense.
It should be another interesting season and, hopefully, an enjoyable one.
Photo Courtesy Of The Miami Dolphins