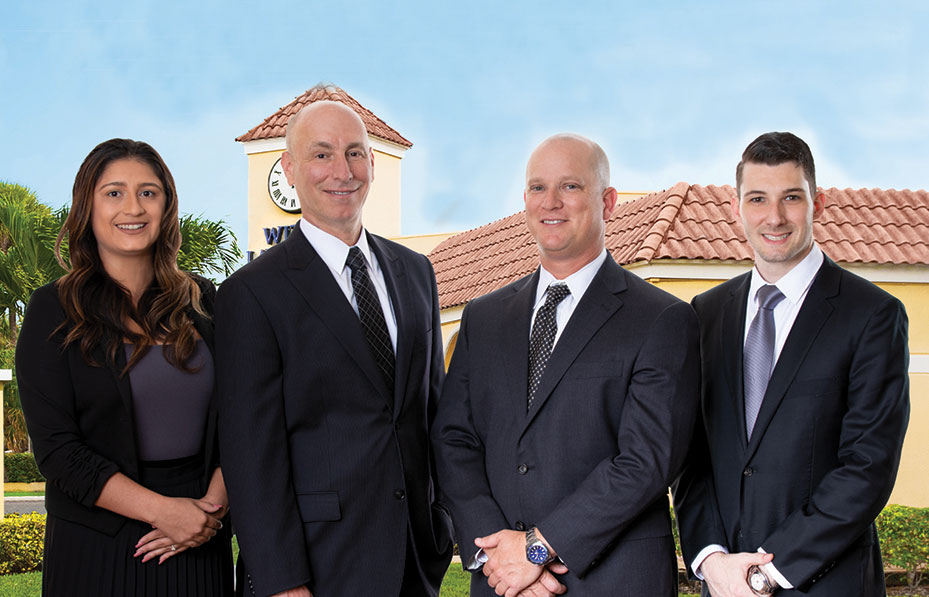 We sat down with Attorney Marc Wites recently to discuss Wites Law Firm and his career as a lawyer.  Marc has been practicing law for 26 years, and he founded the Wites Law Firm in January 2001. The firm moved to Lighthouse Point in 2005, and Marc and his  family moved to Lighthouse Point in June of 2020. Here's what Marc had to say about the last 20 years, and what he sees in the years ahead.
Q. Why did you become a lawyer?
A. I always wanted to be a lawyer, for as early as I can remember.  My kindergarten teacher wrote a poem about the class and what she thought each person would grow up to be, and her poem said that I would be a lawyer.  I have always enjoyed helping people and arguing in written and oral presentations.  So, being a lawyer has allowed me to do what I love.
Q. Did you ever consider that your law practice would find a home in Lighthouse Point?
A. No, but I am glad that it has worked out this way.  When we started the law firm in 2001, we planned to be in Boca Raton.  When we discovered Lighthouse Point, our plans quickly changed. Our building on Federal Highway is a landmark, having been here since the 1960s.
Most importantly, we love Lighthouse Point and the surrounding cities and areas like Pompano and Deerfield.  The people are friendly, and it's an awesome place for family living.
I have lived in South Florida since I was 4-years old. I went to school in North Lauderdale and Coral Springs. With the exception of 4 years in Ann Arbor at The University of Michigan, I have lived in South Florida for the vast majority of my life.  We moved to Lighthouse Point this past summer.
Q. What's different about your law practice today than it was in 2001?
A. Experience for one thing.  When I started the firm 2001 I had already been a lawyer for 7 years.  Now I've been practicing for over 26 years. I have litigated countless cases, and have done many jury trials and appeals.  And, of equal importance, we have built a great team of lawyers and paralegals.  The firm now has 5 lawyers in total, as well as a Foreign Legal Consultant, Daniela Ikeda Pazanski, Daniela is admitted to practice law in Brazil, and is certified by the Florida Bar to practice Brazilian law here in Florida.  In all, we have 15 lawyers and staff people, and we are like a big family.
Q. How have you handled the COVID Pandemic?
A. We have done our best.  For a while, we were closed with most everyone working remotely.  As people came back to the office, we instituted procedures to keep everyone safe, such as requiring the wearing of masks in all common areas of the office, placing hand sanitizer stations throughout the office, and continuing to allow anyone that needed to work at home to do so.
Q. What are some things that clients should consider when hiring a lawyer?
A. Experience is very important.  Clients should ask potential lawyers how long have you been a lawyer, how many cases like mine have you done, do you only settle cases or do you go to court, if you go to court have you ever done a jury trial or appeal, and if so how many, where did you go to college and law school, and how many people work at your law firm and will be on the team to help me with my case.
Q. Anything else?
A. I like to say that a person should hire a lawyer that has the experience and ability to say "no."  This may seem odd, but it's very true.  It's important for a lawyer to always put the client's interest first, and tell the other side "no," you have not offered enough money and my client will not settle, and we will see you in court.  Of course, the decision to settle or go forward is always the client's decision and the client's decision alone.  Lawyers give advice, but the clients make the decisions.  But, it's important that a lawyer have the experience and financial ability to fight a case for as long as it takes to get the best result for the client.
Q. What type of law does Wites Law Firm practice today?
A. Our practice areas are the same as when we started.  We represent only injured people in personal injury and wrongful death cases, claims against their homeowner insurance cases, class actions, sexual abuse and assault cases, investment loss cases, and immigration matters.
Q. What do you do when you are not lawyering?
A. I watch a lot of ice hockey. Jen and I travel all over the state and country to watch Asher and Leo play. And, our boys love to fish, so we spend a lot of time boating and fishing.
Q. Where do you see yourself 20 years from now?
A. I think I will be sitting right where I am today, in Lighthouse Point, practicing law and helping people.  I don't play cards or golf, and I love being a lawyer.  So, I intend to be here for a very long time.