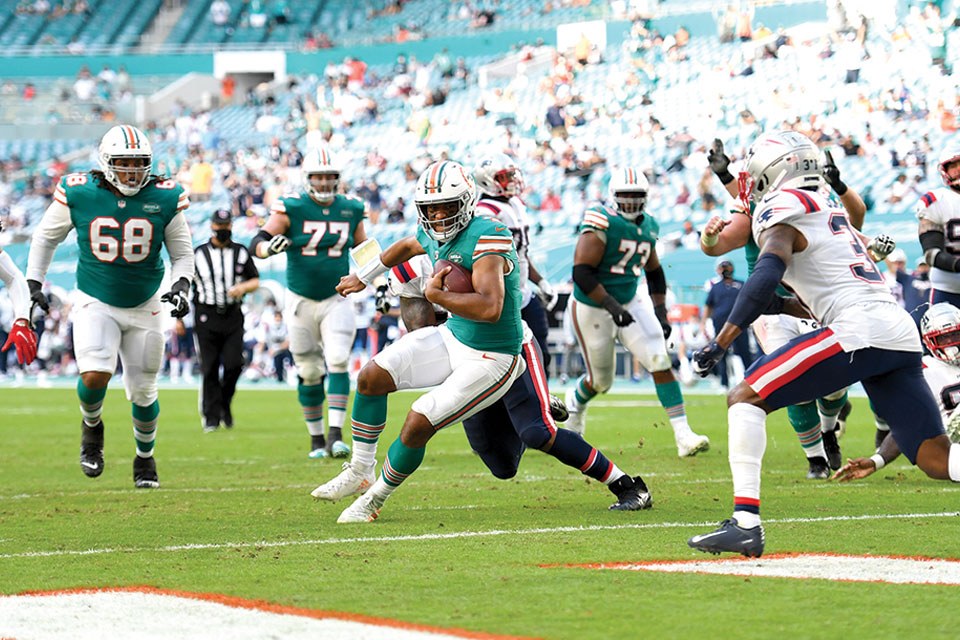 At this writing, the 2021 NFL draft is still days away, but the consensus is that the Dolphins will, or should, focus on improving its receiving corps to provide more opportunity for Tua and loosen up defenses.  The other offensive need is linemen to protect Tua better and improve the running game.  There are several options here, so the team should be able to add players who will see time on the field.  Lastly, more "push" is needed on defense to restrict the time opposing quarterbacks have to read the field and make plays.  This is not an easy position to fill, but the Dolphins have several picks and should be able to draft or trade for a quality player.  That doesn't mean he will be an All-Star, but it is a good start.
The real question in the draft or in the trade market is quarterback.  Should the Dolphins use an early pick to select a backup to Tua or even to replace him if needed.  Most pundits were generally pleased with the performance of the first-year quarterback, but because of his sparkling play in college more was expected and, to that extent, there was disappointment among a lot of fans.  And, coaches too, but they are reluctant to admit it.
One suggestion has been to woo the disgruntled Deshaun Watson from Houston, which at least in the press feigns to admit to having an interest in such a transaction.  But this is the time of year when you don't believe anyone, and teams have to pursue what they want with the confidence that they can make a deal happen. 
Watson has had a tremendous career with the Texans, but I personally have some reservations.  True, I have not watched every game played by Watson, but those I have tuned into have left me thrilled but also often disappointed.  In many games, his team falls behind early and it takes a Herculean effort by the QB and his teammates to come from behind and win or at least make a game out of it.  I would be more impressed if he started the first quarter on fire and continued in that mode throughout the game.  But, there is no question that the talent is there and that his national championship with Clemson in 2016 was no fluke. 
So, the credentials of Tua and Deshaun are similar, one being from Alabama and the other from Clemson.  Both have championship rings from college, and both have tremendous talent.  What we are still waiting to see is the intangible that pushes their performances consistently into "Brady territory."  Not every quarterback with excellent talent and first-class college stats reaches that level of play.  This will be the toughest decision for the Fins.  Unfortunately for Watson, his alleged off-field activities have ended up in lawsuits and his future is certainly clouded by what the outcome of his legal problems might be.  I would be surprised if the Dolphins entered into those turbulent waters.
With the number of picks available to the Dolphins this year, either to use in drafting or trading to fill their needs, the team should be able to shore up its offense and defense and bring the team closer to next year's playoffs.