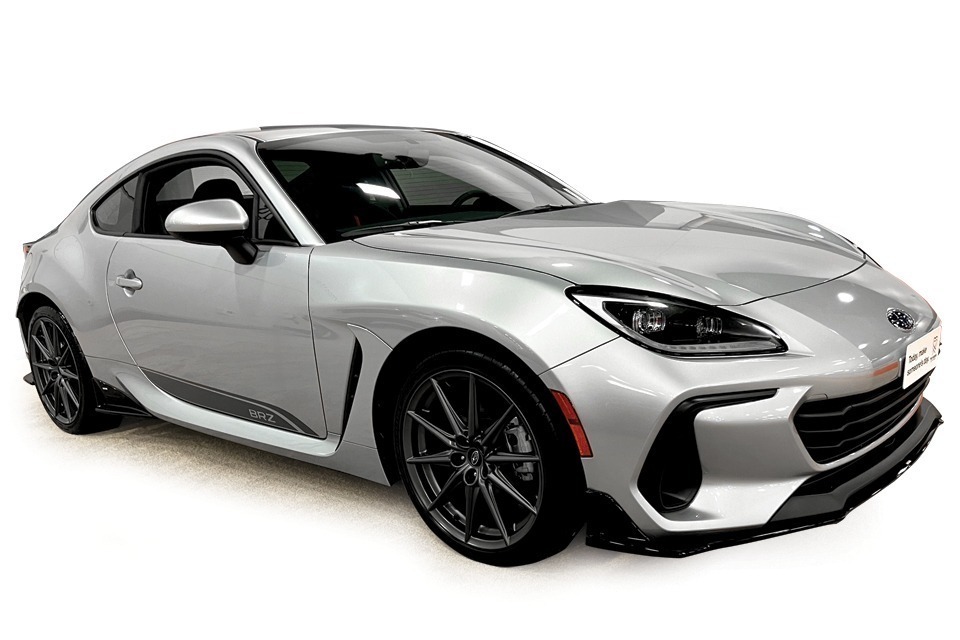 The 2023 Subaru BRZ is a special car that checks a lot of boxes on my list of cars I would like to own.
My passion for automobiles started with sports cars. Handling, speed, appearance, low profile, interior comfort are the main reasons, but performance is at the top of the list. Cost is the second most important reason. I would love a new Ferrari, a GT3 Porsche, McLaren, Corvette, Mustang or Lamborghini, but the price new and cost of maintenance limit my choices.
At the Miami International Auto Show this past fall, I got my first view of the 2023 Subaru rear-wheel-powered sports car.
The 2023 BRZ sports car is one of today's most exciting, affordable automobiles. It's small, light, and nimble. That and ingredients like manageable steering feedback, a standard six-speed manual transmission, and a low seating position make it a traditional leaning sports car with its rear wheel driven ride.
The Subaru BRZ has a twin as it was originally was designed by two manufacturers. Toyota and Subaru joined hands to build the same car. Toyota sells it as the GR86 even with its Subaru Boxer powerplant.
The BRZ is powered by Subaru's 228-hp 2.4-liter direct injection Boxer Engine with a 23-hp increase over the previous 2.0-liter engine. More importantly, the new engine's meatier 184 pound-feet of torque now peaks at a lower 3700 rpm, resulting in smoother power delivery. The iconic Subaru Boxer engine has pistons that move side to side, canceling out each other's vibrations so it can run smoothly across the entire rev range. This compact horizontal layout also allows the engine to be set lower and further rearward, improving balance, center of gravity, and dynamic response.
A Torsen limited-slip differential is standard, as is one of the most satisfying six-speed manual setups available featuring paddle shifters.
Subaru offers the 2023 BRZ in two trim levels: Premium and Limited.
The BRZ's Premium trim level starts at $29,615, emphasizing this car's budget-conscious placement in the market. An intuitive 8.0-inch touchscreen, a 7.0-inch digital instrument cluster, dual-zone automatic climate control, keyless entry, a push-button ignition, and other niceties are all included. I would step up to the $32,115 Limited, if only for the 18-inch Michelin Pilot Sport 4 tires that replace the base car's 17-inch Michelin Primacy HP rubber. In addition to the wheels and tires are the not-needed-in south-Florida heated seats, blind-spot monitoring and a suite of Subaru tech.
Inside, the BRZ makes an excellent case for the manual transmission with a confident-feeling, low-effort shifter, and its 2 + 2 seating. A pair of heavily bolstered front seats look to keep passengers securely in place during hard cornering. The BRZ's responsive handling and impressive cornering grip practically beg you to take it down to Homestead-Miami for a track day.
The cabin boasts a sporty vibe with modern technology. In addition to the low seating position, Subaru says the BRZ has excellent forward visibility thanks to thin front roof pillars.
There are very few vehicles left that seemingly exist only to create joy. The 2023 Subaru BRZ is one such car. Along with its fraternal twin, the Toyota GR86, the BRZ harkens back to a simpler time, when all you needed to have fun was a spunky four-cylinder engine, rear-wheel drive, and three pedals on the floor. Buyers will still find the racy ride, technology and comfort we expect from a modern car, and the 2023 Subaru BRZ is a fairly cost-effective way to do it.