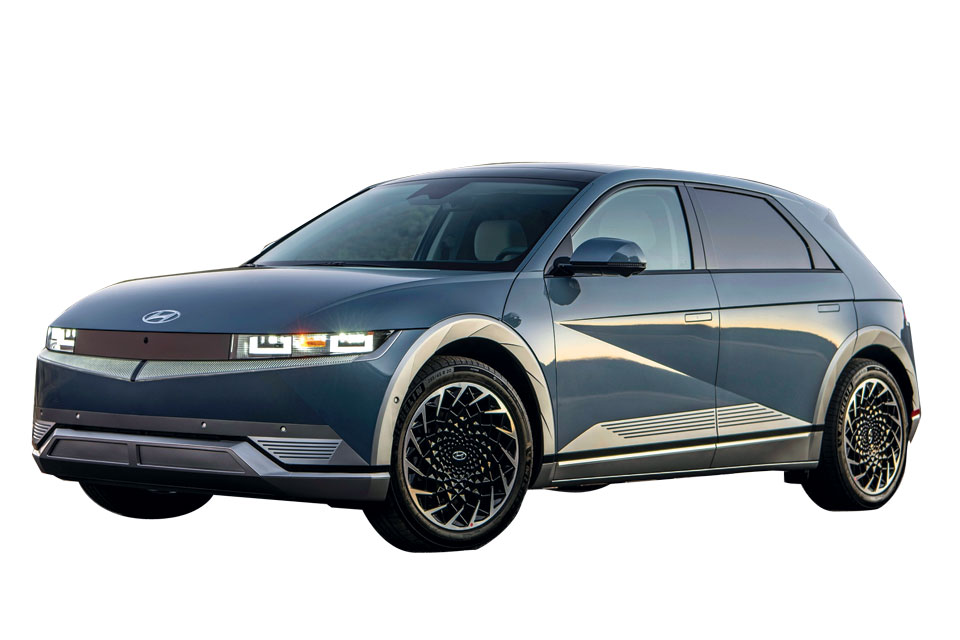 The Hyundai IONIQ 5 was an immediate hit when it made it to showrooms with its retro-themed styling and the latest in electric vehicle design giving the industry leaders notice. Injected with some impressive new-era electrification, the Hyundai IONIQ 5 dazzles as a fast-charging SUV with a notable driving range.
You might be familiar with the Hyundai IONIQ, a small Prius-like hatchback that comes in hybrid, plug-in hybrid and Electric Vehicle (EV) variants. But now Hyundai is using the IONIQ name as a springboard for several electric vehicles. The first of these is the all-electric 2022 Hyundai IONIQ 5, a small crossover SUV that goes big on style and technology.
Comfortable, practical and generously equipped, there is plenty to like about this all-new all-electric SUV. It was honored as Electric Vehicle of the Year by Car and Driver in their September 2022 issue.
The IONIQ 5 has an electric-only powertrain that's available in numerous potencies. The standard-range battery paired with a single, rear-mounted electric motor generates 168 horsepower (hp). With the longer-range battery, the rear-drive configuration generates 225 hp and 258 pound-feet of torque, which Hyundai says will propel the IONIQ 5 to 60 mph in 7.4 seconds. The all-wheel-drive version is much more powerful, with 320 horses and a substantial 446 pound-feet, and quicker too. The manufacturer reported 0 to 60 mph in 4.5 seconds.
The IONIQ 5 comes with one of two battery packs: a 58-kWh pack or a 77.4-kWh pack. The smaller battery pack will serve as the base model for the IONIQ 5 range, and it comes with one electric motor that drives the rear wheels. IONIQ 5 models with the larger battery come with either rear-wheel drive or an additional motor up front that gives the vehicle all-wheel drive.
The 2023 IONIQ 5 with the long-range battery and rear-wheel drive has a combined EPA rating of 114 MPGe (Miles Per Gallon electric); adding all-wheel drive drops that estimate to 101 MPGe (up from 98 on the 2022 edition). With rear-wheel drive and standard-range battery, the EV SUV is expected to get 113 MPGe combined.
A real upside to the 2023 edition is that the IONIQ 5's electrical architecture is compatible with the latest high-powered DC fast-charging stations. Connecting to a 350-kW charger, for instance, lets you recharge your IONIQ 5 from 10% battery charge to 80% in just 18 minutes, Hyundai says. The IONIQ 5 also offers a cool feature that allows you to power electronics, tools and other gear with the car's battery pack.
Hyundai says the IONIQ brand emphasizes connected living, and the IONIQ 5 has a host of innovative infotainment and connectivity features. A 12.0-inch touchscreen shares a panel on the dash with a 12.0-inch digital gauge cluster, but the former acts as a hub for all things entertainment. This includes advanced voice-recognition software and Apple CarPlay and Android Auto.
Along with a suite of driver-assistance technology, the IONIQ 5 offers a semi-autonomous drive mode, called Highway Driver Assist 2, that can drive on the highway and change lanes with little to no driver intervention. Available key safety features include: forward-collision warning and automated emergency braking lane-departure warning, and lane-keeping assist and adaptive cruise control.
Hyundai provides one of the best warranty plans in the industry. Likewise, it comes with an impressive amount of complimentary scheduled maintenance.
A limited warranty covers five years or 60,000 miles; the powertrain warranty covers 10 years or 100,000 miles; the battery is covered for 10 years or 100,000 miles, and complimentary maintenance is covered for three years or 36,000 miles. The 5's pricing starts at $41,245 and tops out at $57,490 for the Limited AWD edition.