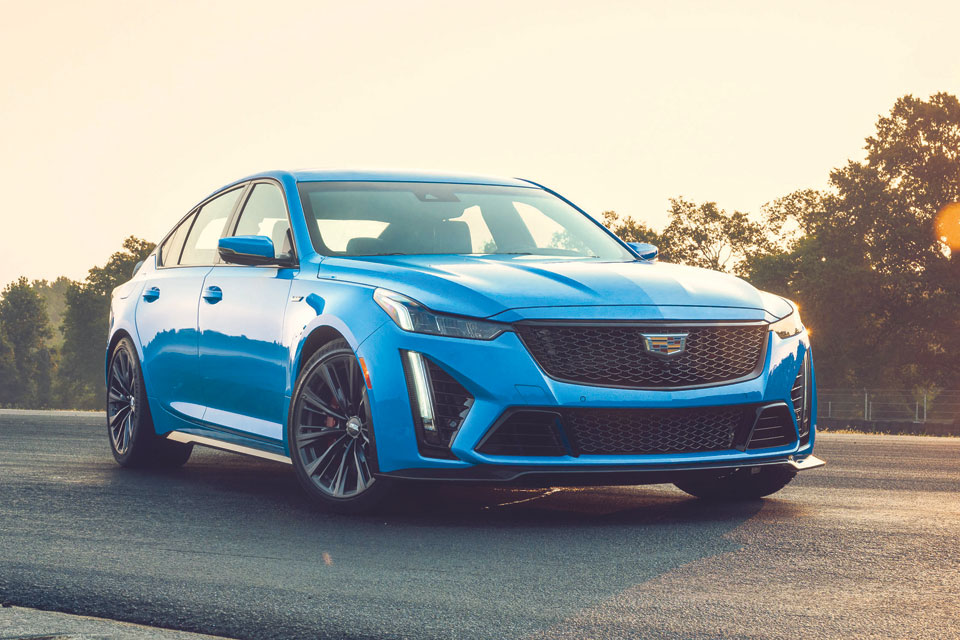 There is an adage with automotive manufacturers that goes "What wins on Sunday, sells on Monday."
The folks at General Motors are testing that theory with the rollout of the 2023 Cadillac CT4 to celebrate and showcase their investment in the IMSA WeatherTech Sports Car Championship race series that began in 2017. They are so enthusiastic about the potential of their race brand that in January 2023 they announced their intention to participate in FIA Formula One.
They are betting racecar savvy consumers will be interested in an American made marque that is good looking, luxurious, and has shown success at Daytona, Sebring and Le Mans. The folks at Cadillac have even come out with a special sedan you can purchase at your local dealer, the 2023 CT4 Blackwing, to lead the celebration.
The Blackwing designation is available in three trims that differ visually, representing the Sebring, Watkins Glen, and Road Atlanta racing circuits that the IMSA series visits. The Sebring IMSA Edition has dark Maverick Noir Frost paint and Tech Bronze brake calipers with interior accents in either Signet or Sky Cool Gray. The Watkins Glen IMSA Edition uses the same interior trim but wears Electric Blue paint with Royal Blue brakes as an ode to the track's blue guardrails. Road Atlanta IMSA Editions have a Rift metallic paint job with either Adrenaline Red or Sky Cool Gray interior accents. These special editions come standard with carbon-fiber front seatbacks and are offered with either the 10-speed automatic or six-speed manual transmission.
The 2023 Cadillac CT4 is designed as the daily driver that deserves a weekend gig. The CT4-V houses a 2.7L dual-volute turbo charged I4 engine with 325 horsepower and 380 lb.-ft. of torque, while the CT4-V Blackwing offers a Cadillac-exclusive 3.6L Twin-Turbo V6 with 472 horsepower and 445 lb.-ft. of torque. When racing is in your DNA, concession is not an option.
Structurally rigid, yet compliant in an instant thanks to the latest generation of Magnetic Ride Control, it's the world's fastest reacting suspension technology. It reads the road up to 1,000 times per second and seamlessly adjusts damping for confidence-inspiring ride and handling.
The 2023 CT4 V-Series Luxury Sport Sedan track models stop at nothing to deliver an exhilarating drive that sets the bar for both luxury and performance, making it the most powerful Cadillac ever in its class. It is so exclusive that only 99 of each of the three models will be built.
Starting just above $62,390, the 2023 CT4-V Blackwing is priced between cheaper alternatives such as the Mercedes-AMG CLA45 and more expensive ones such as the Alfa Romeo Giulia Quadrifoglio. We like that the Caddy comes standard with a stick-shift transmission and track-ready hardware.
The CT4-V Blackwing also offers sportier front seats, with some luxury amenities that sound appealing but increase its bottom line. Likewise, Cadillac offers several expensive packages that aim to elevate its sports-sedan status.
The CT4-V Blackwing's interior has some additional frills compared with the regular CT4 lineup, including carbon-fiber trim with micro-suede accents and standard with a 12.0-inch digital gauge cluster and specially bolstered front seats with 18-way power adjustments.
It is a masterpiece that includes communicative steering, a well-balanced ride, racetrack-capable handling, and a 472-hp twin-turbo V-6 that pairs nicely with sticky Michelin Pilot Sport 4S tires and rear-wheel drive. The three race trim models are priced a bit higher as the Watkins Glen IMSA Edition and the Road Atlanta IMSA Edition are listed at $81,690 and the Sebring IMSA Edition comes in at $84,990.
The downside to this special marvel is that the CT4-V Blackwing isn't going to be around forever. Along with its CT5-V Blackwing big brother, it's likely the final chapter of high-octane, gas-fed performance from Cadillac as I look for the next generation of hot Caddys to be electric. We will find out if their performance sells on a Monday in the future.