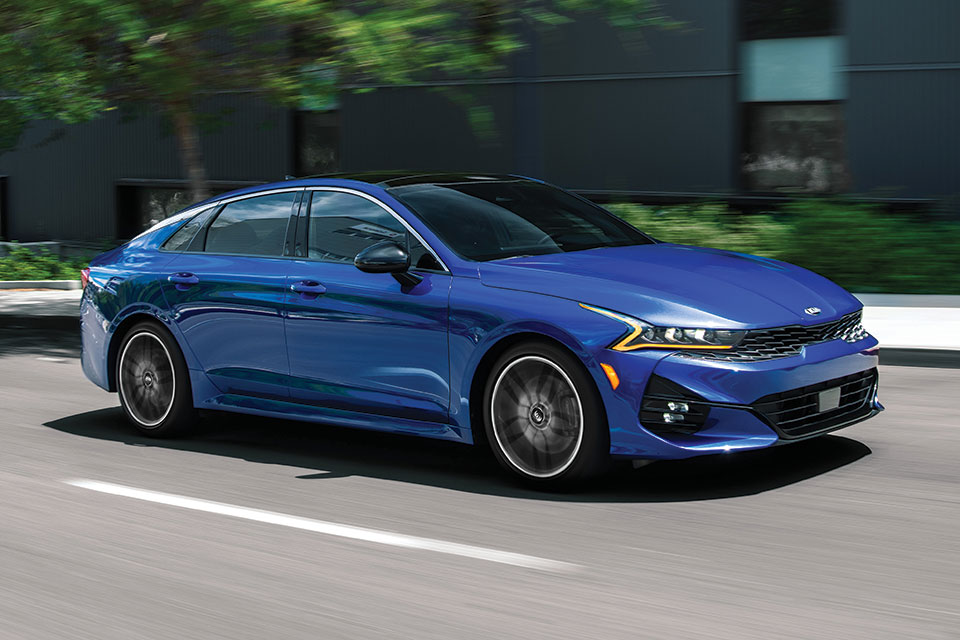 In the automotive business looks can mean everything. That is a reason the 2021 Kia K5 – GT Line should be a crowd pleaser.
Kia's advertising states it perfectly when it describes the replacement for the Optima as "Longer and lower with a wider track."  Take a trip to the local dealer and you will see that this  2021 Kia's exterior design grabs all the attention with its sleek front end, flashy lighting and sportback shape.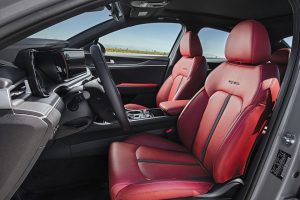 The numbers reveal that the K5 measures two inches longer and nearly an inch lower and has an extra 0.8 inch between the tires than the Optima. It may not sound like much but those numbers, coupled with its racy design, produce a striking product.
The base engine is a 180-hp turbocharged 1.6-liter four-cylinder model that sends 195 lb-ft of torque to the road with an eight-speed automatic transmission.
Shifts are clear and quick with the right gears called up without issues. Low-end torque feels strong and the turbo makes its presence felt right away. Kia reports that the K5 gets to 60 in 7.0 seconds.
The proportions and design yield a sexy car that showcases its front-drive layout, and $24,455 starting price. The 2021 K-5 is available in five different flavors starting with the entry level LX, followed by the LXS, the GT- Line, EX and the top-of-the-line GT.
All-Wheel-Drive is an option for the LXS ($2100) and GT-Line ($3700) which includes the Premium package that is a $1600 stand-alone option for the front-wheel-drive models.   
All GT-Line and EX models have the same suspension tuning as the base, but they use 18-inch wheels with wider Pirelli all-season tires than the trim's 16s. The steering is both unerringly stable at highway speeds and deft and responsive.
Even though the 2021 Kia K5's exterior gets all the attention, the interior is impressive as well and complements Kia's stellar looks.